LPG/CNG injection controller                                                                
Suitable for up to 8 cylinder engines
Possibility to connect controllers to service 16 cyl. engines
Auto-diagnostic detection of errors and installation flaws
The TECH + system of automatic correction (auto-adaptation)
Precise gas dosage based on analytical corrections
Full protection from power shortage and power overload
Configuration software with TECH & STANDARD option
Aluminum casing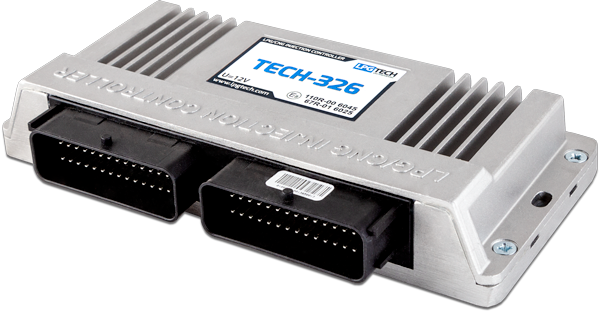 The TECH-320 controllers are microprocessor based in aluminum casing with the traditional 56 pin wire-set. The TECH-300 controllers are designed for up to 8 cyl. engines although, the two controllers could be connected simultaneously to be used in 16 cyl. engines. The compact casing 190 x 125 x 30mm enables easy installation in hard to reach spaces.
The Standard TECH-324 version, consists of all above mentioned functions and protection guaranteeing excellent quality and performance. Auto-calibration and system settings should not take longer than 15 min. The advanced auto-adaptation system guarantees the trouble free installation performance by monitoring the system and, if necessary, correcting the gas injection times.
The TECH-326 and TECH-328 are suitable for up to 8 cylinder engines (depending on version).
Certificate for DVLA (discount for Road Tax)                                                             
2 Years job & parts warranty
1 day LPG conversion (subject to car typology)
Courtesy car free of charge
First service for FREE
LPG tank in spare wheel place.
Extra offer on valve saver kit for only 45 pounds
UK's largest LPG conversion and servicing facility
Best value for money on all LPG Autogas conversions across the UK
Professional staff with extensive experience in LPG conversions
The most competitive pricing without compromising on quality
Will beat any genuine price offers across the UK                                        
Professional, institutional and striving for excellent customer service
We do not compromise on quality, ever!